In the final installation of our practice makes perfect series, our Head Makeup Artist Mel Barrese walks us through her all-day lip colour makeup tips and tricks. Lipstick has taken a back seat over the past year, but as life returns to normal and we wear face coverings less, it's like time to experiment with lipstick again. This week is all about creating the ultimate statement: a long-lasting lipstick. 
There are many different ways to add colour to the lips, from lip gloss to a subtle lip tint. There is often the question: 
is red lipstick too much?
 We believe the bolder, the better. 
The following red lipstick makeup tutorial goes back to basics with tips on applying and long-lasting moisturising lipstick that stays on. 
STEP ONE: PREP THE LIPS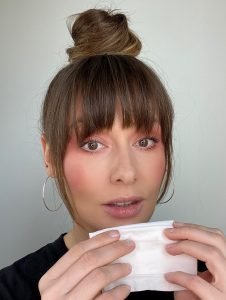 The first thing to do is apply lip balm. Like any other makeup routine, prepping the skin is important. Lip balm softens and nourishes the skin. Leave this on whilst completing your overall makeup look.  
Allow it to settle and hydrate your lips. Then, once your makeup is completed, remove the excess lip balm by taking some tissue and blotting the lips to remove the excess lip balm and make sure the area is completely dry.
STEP TWO: CONCEALER
Next, apply concealer. Using our Skin Base Concealer Pen, apply a tiny amount to the back of your hand. Then, pairing it with our Round Concealer Brush, lightly apply to the edges of the lips., 
It is important not to load the lip with too much concealer and avoid heavy layering. Use small and concise brush strokes to remove the natural shape of the lip line.