The Illamasqua Hydra Veil has quickly become one of Illamasqua's most adored products by many, and with its multitude of uses and skin benefits, it comes as no surprise…
Although we consider ourselves to be a colour brand, we do believe that your skin needs to be well kept in order to provide an optimal canvas for said colours to reach their full potential. Seeing as we don't (and won't) create our own skin care, we wanted to create something that will give your skin an instant pick-me-up.
First of all, let's get something straight – Hydra Veil is not just a primer. This wobbly jelly is designed to give skin an instant surge of hydration for immediate results. Nourishing ingredients include Microalgae, Vitamin C and B3 which work together to keep skin hydrated, resulting in a radiant complexion that lasts all day.
Using it won't prevent crows feet, for example, but it will be a quick fix for sullen, dry skin (psst… it's especially great for hungover skin. Be sure to indulge in the mandatory fry up also). With so many different skin types and qualms, we're going to talk you through the ways in which you can get the best from your Hydra Veil.
Perfect for keeping your make up in-tact all day. Simply scoop a little out of the pot (a pea sized amount will be more than enough to quench the whole face) and apply to the entirety of the face using fingertips or a foundation brush. Once the product is dry, proceed with your usual foundation routine.
Tip: for the ultimate dewy complexion, use our Skin Base Foundation alongside your Hydra Veil to achieve a natural, flawless finish, suitable for every day.
@tabbyfa helps to create this healthy, dewy glow with help from the Hydra Veil: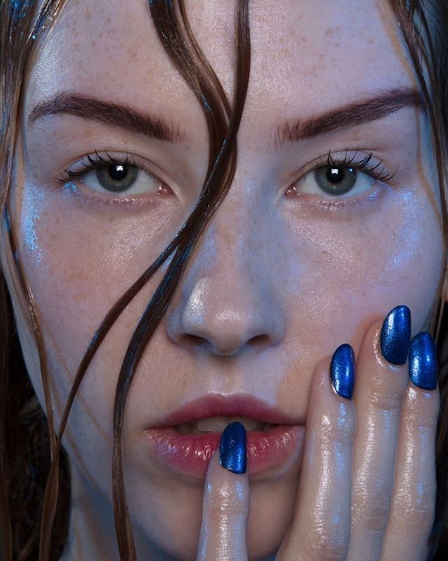 Before you begin… don't underestimate the power of a few glasses of water to help to perk your skin up! Now, apply your serum and moisturiser as usual. On top of this, continue to apply your Hydra Veil. This will give your skin an ultimate burst of that much needed moisture, leaving you feeling refreshed and (hopefully) slightly more human again.
Tip: if your skin is looking extra dull after your indulgent evening, try our Beyond Veil Primer – a mixture of the Hydra Veil and our Illuminating Beyond Powder, to give your skin an extra boost of illumination!
@mermaidpainting ups the glow game by using both the Hydra Veil AND the Beyond Veil to give this gorgeous glow:
Does your skin feel irritated post-shave? Hydra Veil could be the perfect soothing remedy. After your usual balm, apply Hydra Veil fresh from the fridge. The combination of hydration and cooling temperature will help to alleviate any irritation or redness.
@makeupbyowen uses the Hydra Veil to give him this freshly applied make up look:
If you are prone to puffy eyes in the morning, or find that your foundation usually clings to all the wrong places, Hydra Veil is your perfect solution. Gently pat a little onto and around the orbital bone with your ring finger for a fresh and dewy mid-day revival.
Tip: do you also suffer from dark circles? Try teaming our Hydra Veil with our Concealer to give you the ultimate coverage, both easy to keep in your handbag, meaning you can easily touch up throughout the day.
@nadiakosh uses the Hydra Veil to keep make up looking fresh during this shoot: 
Want to see what all of the fuss is about? Visit your local Illamasqua shop or counter to find out more!