When it comes to voluminous lashes, it can feel like a never-ending search for the perfect mascara, extensions' artist or fake lash combination. The secret to lush lashes is not a new lash trend – it has been around for decades and it's called layering mascara. 
WHAT IS LAYERING MASCARA?
Layering isn't a brand-new makeup technique, and it can first be linked to the early-2000s spider lash trend. The concept of layering is quite simple: you use two mascaras to add definition and volume to your eyelashes. While layering, using your favourite lengthening mascara will help you achieve a long, fanned-lash effect. The aim of the lengthening mascara is to separate lashes and give definition to your eyes, the second mascara adds volume for a full-lash look.
Combining two mascaras allows you to create a customised formula to enhance your lashes to your own desired look. You want to layer and use two different wands in your application: one that is designed to build volume and length. The other (often thinner brush) will separate your lashes, removing clumps and adding definition.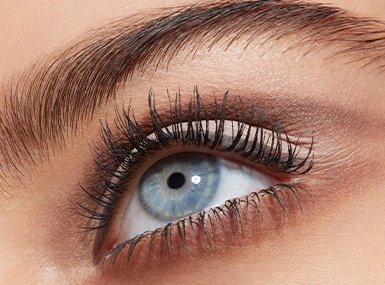 Want to try layering mascara? We've got you covered. The best mascara for thick, long lashes is a combination of our best-selling  Masquara Raven and our brand NEW Infinite Masquara: 
INFINITE MASQUARA – 

(base layer) 

NEW

: This 

lengthening mascara

 has a thinner progressive bristle-brush that provides a lash-boosting effect for elongated and defined lashes.  Perfect for removing clumps and a light, flexible finish.

 

MASQUARA RAVEN – 

(top layer) 

BEST-SELLING:

 This 

full lash mascara

has a thick bristle brush to volumise lashes from root to tip with an intense jet-black finish coating every lash.