Day 1 of London Fashion Week and our first show is over. Richard Malone opened our trip to London Fashion Week with a stylish, modern, skilfully cut and crafted collection. Elements of his previous collection were visible with the ruched dresses and sharp tailoring but that signature element is one that we love.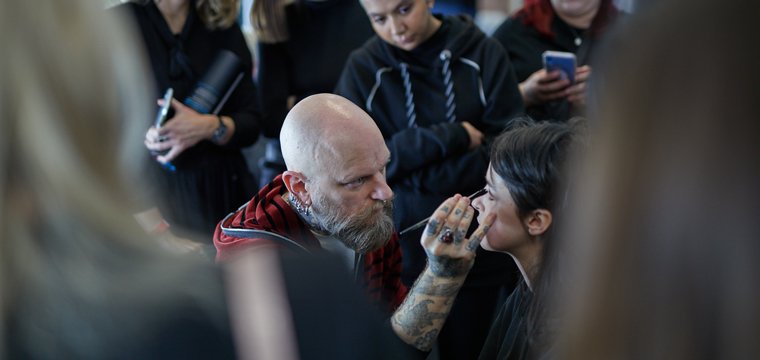 Last season our professionals created powdery white eyes, raw skin and stained blood lips. Sticking with the soft approach to makeup Pablo created a timeless beauty look. Using our Elemental Palette to create a blocked eyebrow groomed with Brow and Lash Gel, framing the face complementing the tailoring. Along with flushed cheeks and glossy eyes paired with a conditioned lip. This can easily be the perfect go to every day look.
'The look we created today was inspired by the mood of the collection and the hair. There was a bit of a masculine element so we decided to keep the girls pretty and a little more feminine. We started with the skin using Skin Base Foundation. Applying a very sheer layer on top of a Hydra Veil base. Then on the eyebrows we tried to make them very straight and thick – kind of like a Brooke Shields, Natalie Portman vibe so they are a little bit more masculine. We curled the lashes not using any mascara but we used a clear lip gloss call Glaze. Applied that to the eyelids, dabbed on with fingers for a glossy eye.
For the lips we used another Loaded Lip called Grind, we pressed the pinky brown shade with our fingers on the lips so it almost looked like a lip conditioner more than a glossy lip. To complete the look we finished with blusher, as the look has a matte finish we used our Powder Blusher in Naked Rose. We applied it quite low on the cheeks, not in the apple of the cheeks looking cute. It looked like when you go outside in the cold and your cheeks get flushed. It is quiet a low rosey cheek, quite a simple look but very pretty.'
Pablo Rodriguez on his Richard Malone look.
GET THE LOOK