The summer-time can be a blessing and a curse for our complexions. On the one hand, we have sun-kissed radiance, dewy skin, and scatters of freckles. On the other, we have the troublesome duo that is, makeup and the sun. We may be familiar with the fact that at times, make-up tends to modify itself throughout the day. This is why we touch-up lip-liner after eating or dust some powder over our t-zone. But how do you keep makeup fresh during the summer when it simply won't stay put? Combined with harsh natural daylight that shows no mercy, there are some summer makeup tips that everyone should know for these warmer months.
Fight the heavy heat, dodge the oily t-zones and stay looking fresh as a daisy with these summer makeup tips.
Use a makeup setting spray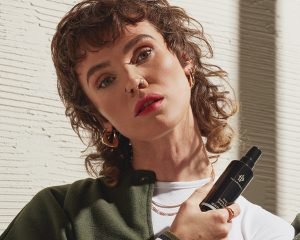 You may want to switch around your makeup bag coming into the warmer months. Put the festive red lipsticks to one side and make way for the summer makeup products. For example, don't overlook what a setting spray does for the skin when the sun is beaming down.
What does setting spray do?
A setting spray is a light-weight, oil controlling mist that locks in makeup for a flawless skin finish. Illamasqua's Hydra Setting Spray in Matte is a non-sticky formula which dries fast to give your makeup serious staying power. With wild water mint extract, what this setting spray will do is leave the skin feeling balanced without looking dry. It's the secret to keeping your makeup looking fresh during the summer, even during the most intense of sun.