Our brand new Loaded Lip Polish collection will have you saying goodbye to matte and hello to high shine glosses! Lip gloss is officially back but not as you know it!
We have a wide spectrum of colours, 14 different shades to be precise. All which cater to any style, any occasion and any skin tone. Yes, that's right- we have a shade for everyone! Each shade can be worn toned down by just applying a little on a brush and patting it over your lips or you can take the wand and apply a full coverage lip.
So let's help you find your shade, maybe it's linked to your go to colour or maybe it's behind the name of the gloss. First up, our blush pink tones, the perfect range of pink shades to make your lips do the talking.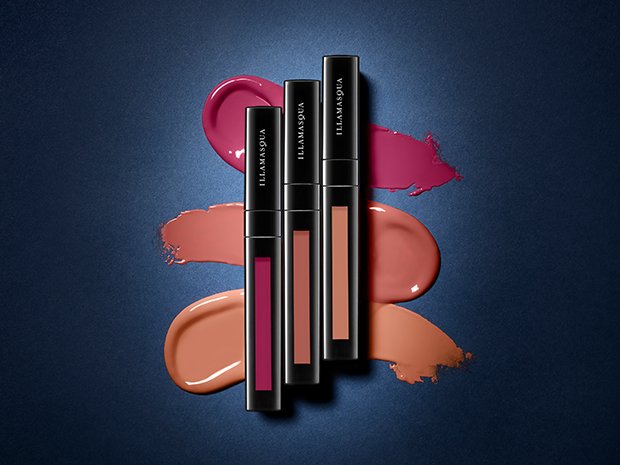 A shocking pink shade for a fearless bold look, for those who are not afraid to stand out from the crowd. Pairing with a smokey eye for a full glam look or wear with a natural face and a dash of Shock on your lips for that wow factor.
Strike a pose with this classic light pink shade that will suit you no matter your make up style, the light pink tone slightly emphasises the lips with a touch of colour. The perfect match for softer/ fairer skin tones.
A sumptuous juicy peach tone, perfect to pair with glowy skin for the ultimate day look. Melba is the perfect go to shade for every day wear and it's perfect as a little goes a long way so less touch ups!
A luscious raspberry popping pink, which is on the darker shade of the group but still gives off a natural high shine look. Perfect for those who prefer to create darker looks but still want a slight pink touch.
Pink shades aren't for everyone, our Crimson shades bring the Spice (literally) for those who prefer the deeper fiery shades and going into the Autumn, we are all for this look!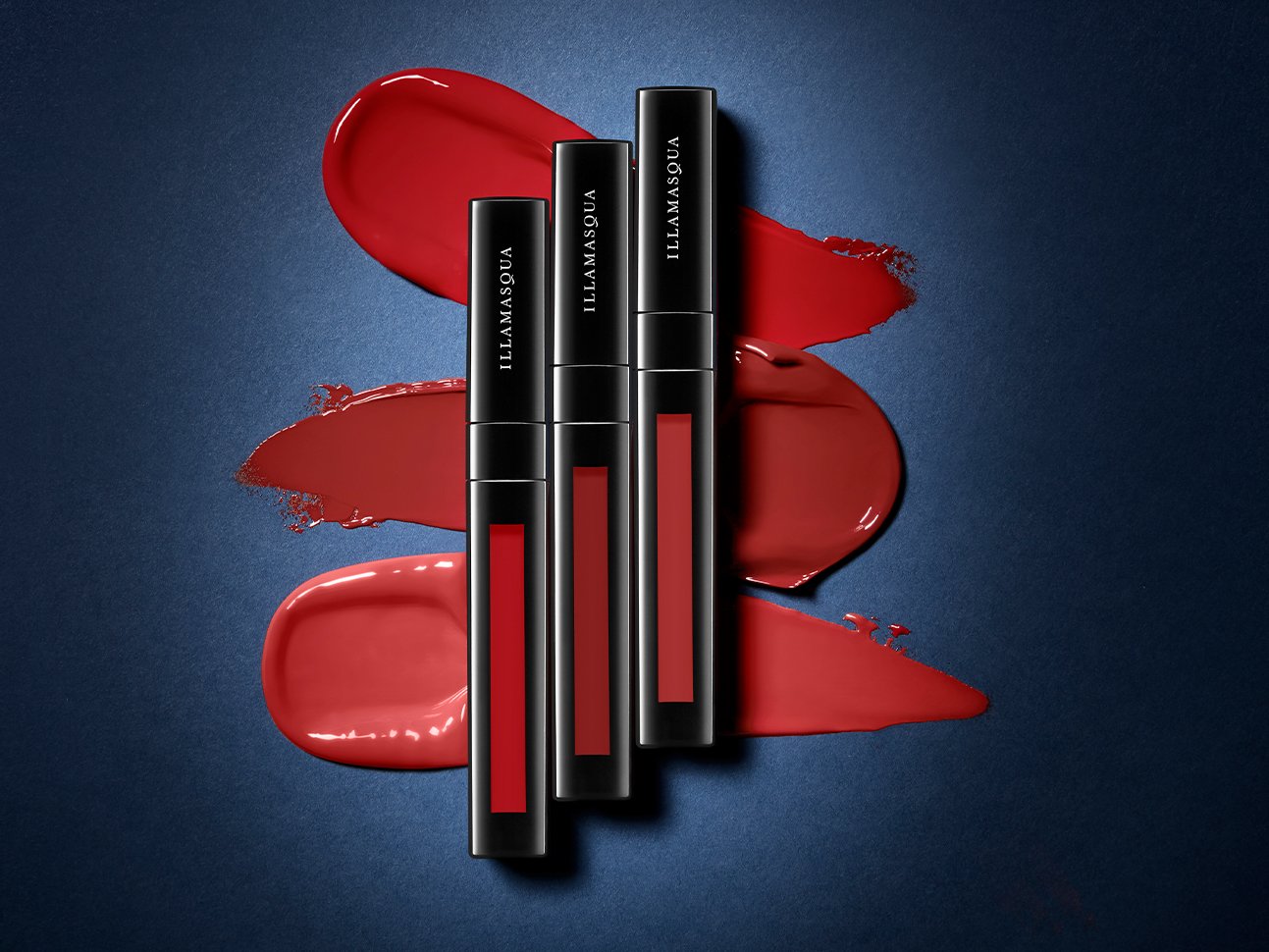 An inspiring, true rouge red which is the perfect transitional lip colour for the in between seasons. Layer it up for a bolder look or apply gently and dab with your finger for a lighter touch of colour.
A vibrant, fiery pillar-box red for a defined pout perfect for those who love the signature red lip. Perfect day or night, no matter the occasion or season; red lips are timeless.
An intense burnt orange shade to enhance your pout, literally bringing spice to your look, no matter your skin shade. Layer it up for a darker tone and for the paler lightly apply or mix with our Glaze shade if you are looking for something a little more subtle.
A regal berry red to take you from dusk to dawn, pairing with a neutral face or glam eye allowing you to create any possible style you could want.
A daring blood red hue for a bitten lip look, perfect for going into the Autumn season and creating some bold looks.
Next up we have a range of sumptuous dark shades, forget the 90's trend of the brown lipstick layered up with lashings of high-shine gloss. Here are our go to shades with subtle shade differences which means there's one to suit skin tone.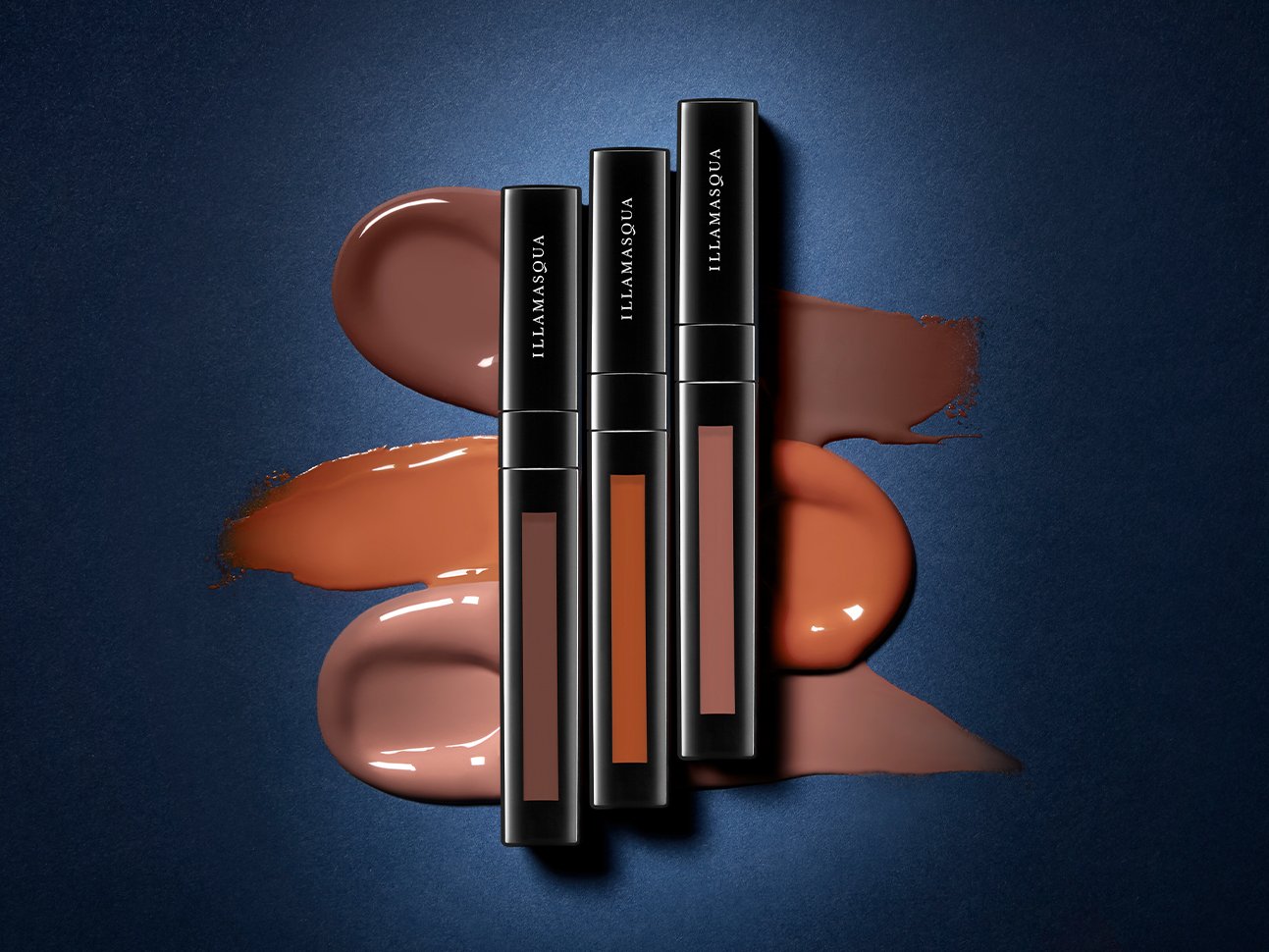 A delectable deep brown nude, pair with metallic or golden highlights to really glam things up or just let the lips do the talking. Perfect for deep skin tones to really accentuate your lips.
An effortless cream coffee nude, that gives a natural but slightly dark finish to your glam with a shine. You can wear Flaunt no matter where you go or any dress code, could this be the perfect gloss?
A red-brown nude for any occasion, a super wear-able hue that will suit everyone dressed up or down. Giving a nice nod to the latest trend, at least we don't have the thin eyebrows and blue eyeshadow to match the 90's.
A delicious chocolate hue for that dark vampy look. A true show stopper!
Not forgetting our clear Glaze, the perfect topper for any Antimatter lipstick shade or you can wear it on its own if you are after something a little subtler; even mixing with any of the other Lip Polish shades to tone things down a little.
SHOP THE LOOKS HERE>