Our second show at London Fashion Week was a live-stream runway event. Collaborating with London-based designer Mark Fast, our Director of Artistry Pablo Rodriguez was in attendance to create a single aquatic-inspired makeup theme.  
Drawing inspiration from the effect when light reflects on water, this London Fashion Week look adopted an ethereal theme, calling on shimmering cold silvers and chunky glitter.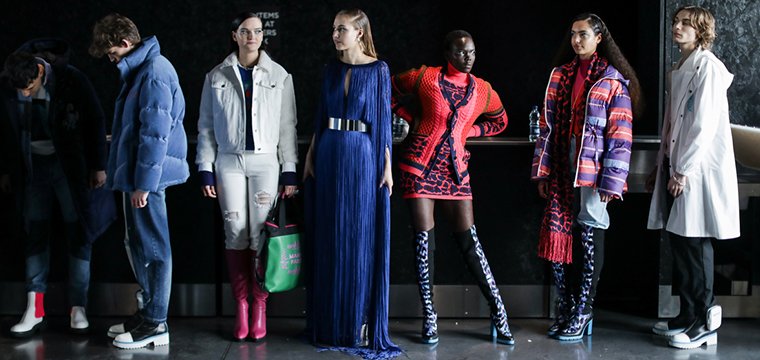 A transcendent look contrasted by the bold, colour-blocked chunky knits Mark Fast is known for, Pablo created a makeup theme inspired by a look from another world.  
THE LOOK: QUICKSILVER BLINK
Using the reflection of light and bodies of water as his muse, Pablo combined the metallics featured in the Mark Fast AW21 fashion show with shimmer-inspired makeup. Whether you're dreaming of Atlantis or life under the sea, this makeup look is perfect for the escapists, taking models to another world of mermaids and deep-sea phronima.

"The idea for this look was to capture the effect that you get when light reflects on water. The main feature was a few pieces of chunky silver glitter placed on the centre of the eyelid on top of the lash line, so they catch the light when the models blink. The rest of the look was all about metallic pastels on eyes, lips and cheeks." 
PRODUCTS USED
For the base: Pablo uses Skin Base Foundation and Beyond Liquid Highlighter to create a luminous effect, giving other-worldly glow.