IT'S HALLOWEEN  AT ILLAMASQUA
Our Director of Artistry, Pablo Rodriguez, created two authentic face charts to inspire your Halloween make-up this year featuring some of our brand new Reign of Rock collection and some of our cult favourites for creating Halloween looks. With a full step-by-step, get the look guide and product list, you have everything you need to recreate these Halloween looks yourself.

ZOMBIE MAKEUP: How-To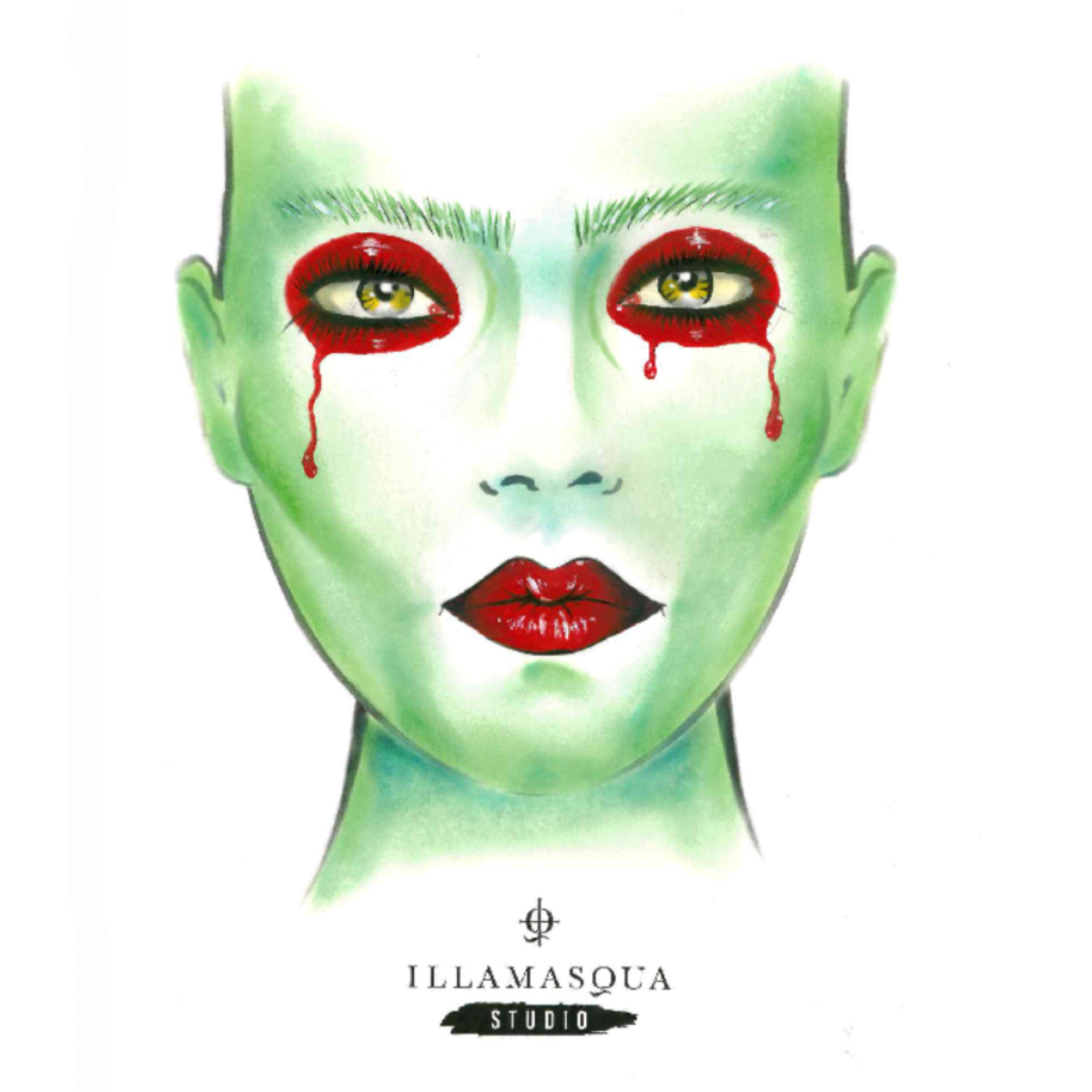 ZOMBIE SKIN
PREP
Apply our Hydra Veil Primer to clean, fresh skin, then buff Skin Base Lift (2-3 shades lighter than the natural skin tone) under the eyes and the high points of the face to perfect and brighten and set with our translucent Loose Powder.
ZOMBIE TEXTURE
Using the Illamasqua Buffing Brush, apply the deep green shade, Opera, from the Experimental Artistry Palette all over the face and neck leaving slightly uneven to achieve a textured effect.
CONTOUR
Deepen the colour around hollows of the cheeks, jawline, temples and down the nose adding contour using the Blush Up Brush and the teal shade, Dramatist, from the Experimental Artistry Palette.
EYES
BLOOD TEARS
Using our Lip Liner in Spell, outline the eyes in a circular shape and fill in with the liner, then use our Powder Eye Shadow in Daemon to set the liner and intensify the colour.
Using the same Lip Liner in Spell, create a dramatic tear-like effect to replicate dripping blood half way down the cheeks.
ZOMBIE BROWS
Mix Dramatist Eye Shadow with Sealing Gel to create a liquid formulation and define the brows by creating individual hair strokes using our Angled Eyebrow Brush.
LASHES
Tight-line the top and bottom waterlines using Eye Pencil in SOPHIE to prep for False Eyelashes. This zombie look requires your favourite Illamasqua Eyelashes on both the top and bottom lashes for an intense look.
FINISHING TOUCHES
LIPS
Apply our Antimatter Lipstick in the shade Rocket to the centre of the lips and press with the finger to blend. Finish off the look by applying our Antimatter Lipstick in Orion to the outer corners of the lips with the Lip Brush for maximum precision, blend towards the centre to create a plumping effect.
SHOP THE ZOMBIE EDIT: