We've all been there. As you approach the airport security with your clear plastic bag, you realize in horror that your large bottle of perfume is most definitely over 100ml. Despite the pleas, you are forced to part ways, no matter how new or expensive it is. With airport security seemingly increasing in restrictions, apparently being over the liquid limit is not the only thing that will have your essential travel makeup and toiletries confiscated. If you're wondering whether you can bring makeup on a plane, you must now bear in mind that it is, in fact, no longer deemed acceptable for bottles and pots to be bulging out of the sides. Similarly, it is unacceptable to have your travel makeup spread across two clear plastic bags. These days, it is strictly one, fully sealed, far too small, clear plastic bag- a huge hurdle for us makeup lovers.
So, can you bring makeup on a plane and if so, what products? Keep reading for all you need to know.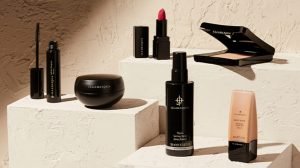 What makeup to pack for travel
To begin, the answer is yes, you can bring makeup on a plane. However, with travel makeup, it's always the easiest option to go as light as possible. Therefore, try to find a travel size makeup alternative for products that you will only use a small amount of.
For example, you may swear that the Beyond Veil primer is a must to bring with you. However, bear in mind that you may only use a pea-sized amount to set your base. Therefore, the answer to your dilemma is the Illamasqua Beyond Veil Primer Mini. Another handy tip is that you can re-use the small tub to carry other liquids like cleansers or moisturisers on your next trip away!