Editorial makeup. It doesn't exactly sound like a look that's achievable on a day-to-day basis, or particularly easy to pull off. However, the bold, playful finish is flooding our screens as the new, everyday look with a twist. Pushing usual makeup outside of its comfort zone, it's all about accentuating a feature with bright colours, sharp designs and eye-catching texture. What's more, with business-professional dress codes down the drain, editorial makeup can be brought from the office to a night out.
So, let's take a look at what editorial makeup means and how to achieve the look.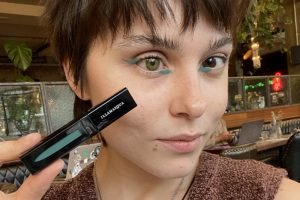 What does editorial makeup mean?
Typically seen on the fashion show runways, it's no wonder editorial makeup sounds intimidating to some. However, what editorial makeup means is simply taking the biggest trending looks of the season, as seen on the catwalk, and following suit. Just as we would with the fashion!
With editorial makeup, the skin is mostly kept fresh and natural. The base makeup is an understatement with the attention brought to one feature, usually either the eyes or the lips. Today, we're going to take a look at some editorial eyeshadow looks.
Blown out eyeshadow
The first editorial makeup look is with blown out eyeshadow.
Blown out eyeshadow is where the eyeshadow is diffused past the outer corner of your lid and toward the tail of your brow. Think of it as an enhanced smokey eye. The result is a sultry eye look with a saturated pigment on the lid that spreads across the rest of the eye area. For this look, we're going to use the Illamasqua Eye Paint Longwear Liquid Shadows with a finish that is eye-catching from a distance and photographs beautifully, perfect for editorial eyeshadow!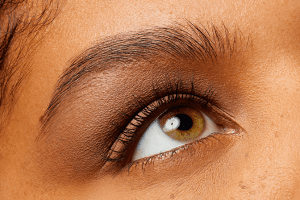 How to do a Blown Out Eyeshadow Look
Step One: Using the shade Lapsang Fun, stroke the eyepaint onto the lid of the eye. Focus on applying this editorial eyeshadow close to the lash-line so the lid is most pigmented here.
Step Two: Using a Blender Brush, disperse the colour up past the crease and up to the brow bone, covering the entire area of the eyelid.
Step Three: Apply the deeper shade, Caffeine Fix, to the outer corner. Blend it into the crease to add dimension to the eyelid amongst the diffused colour.
Step Four: Curl the lashes and add a layer of the Illamasqua Infinite Masquara for a dramatic, voluminous finish.