THE CAMDEN COLLECTION
After the success of our first Amy Winehouse collection last year, we're excited to finally introduce our latest collaboration, The Camden Collection. Over the past two years, we're worked with Amy's friends and family to bring together a collection that not only epitomizes Amy's signature looks, but that also expresses her sense of individuality and the style of Camden. While the Collection contains  shades that Amy loved, the bigger influence here was Camden Town. As an area of London, it has become synonymous with Amy, but for decades it was at the forefront for many of the 70's, 80's and 90's subcultures. A trip to Camden today will continue to inspire you, not only with its iconic landmarks but with the creative, highly styled people who live, work and socialize there.  Paying homage to Amy and the place she called home, The Camden Collection allows you to explore your own Camden style.
Boxed in limited edition, Amy Tattoo packaging, let's take a deeper look at the 7 unique products and shades, and the multitude of ways they can be used for full creative expression.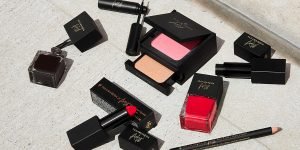 Face Duo 'Double Trouble'
This bronzer and blusher combination is great for creating definition to the skin. With a new bronzing shade, Baxter, use this buildable formula to add warmth and shape to the face. Pair with a big bronzing brush for a soft overall sun kissed look, or alternatively use a smaller blusher brush to carve and sculpt where necessary.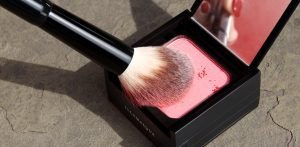 The bronzer is teamed with Shirley, a blusher shade loved by Amy, you can add a pop of flush to the cheeks or mix the two shades together for a bespoke colour that can be worn anywhere.