Our Skin Base Concealer is guaranteed to be a makeup kit essential. Providing extremely high-coverage while leaving a silky-matte finish on the skin, it's your quick fix for achieving a flawless, radiant complexion.
Containing powerful anti-oxidant vitamin E, known for helping to fight free radicals, including ones caused by UV light, your skin is protected. The unique formulation also contains pro-vitamin B5 which helps to balance the moisture of the skin, allowing it to become softer, smoother and more elastic.
At this point, you already know how to pick the perfect foundation. This guide will help you get the most out of your concealer by showing you the different ways in which you can apply, whether you're looking to cover dark circles, create a flawless base or sculpt in all the right places.
Not sure which concealer is for you?
FIND YOUR PERFECT MATCH
The below flow chart will help you determine which concealer is best suited to your needs: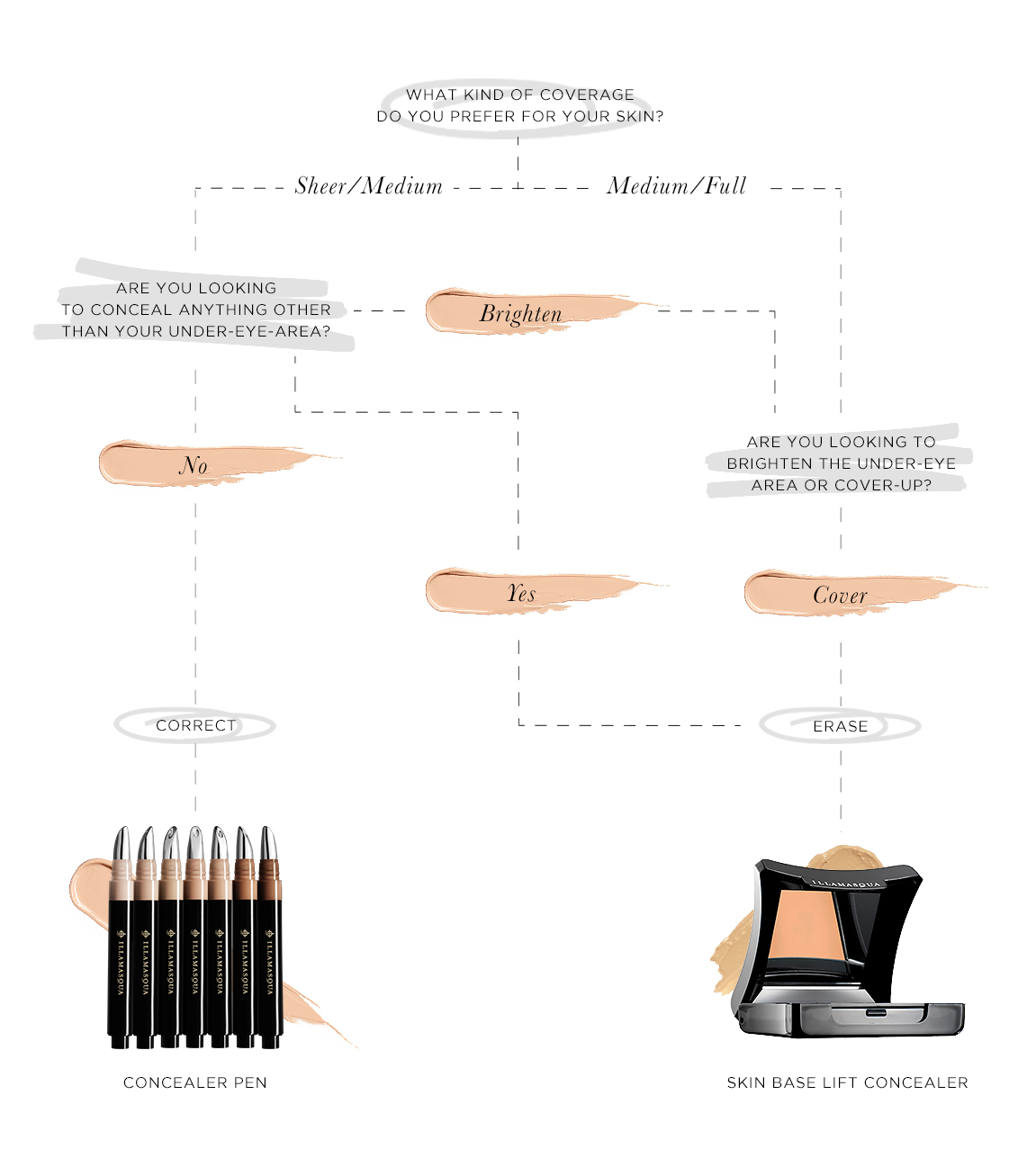 CREATE A FLAWLESS BASE
How to create the perfect, flawless base using our professional-grade concealer.
Perfect for: erasing blemishes and covering dark under eye areas.
Cleanse skin thoroughly and moisturise. Massage around the eye contours with moisturiser to hydrate and smooth.
Apply a thin later of Hydra Veil all over the face.
Take a small amount of Hydra Veil and pat around the eyes using your ring finger to boost hydration levels.
Using your Skin Base Pen, click once and sweep the cooling tip over any blemishes, then pat with the flat edge of the pen to blend into skin.
Apply your preferred Foundation over the skin.
Starting at the inner corners of the eye, draw a triangle down to the cheek and back up to the outer corners of the eye with the Skin Base Concealer Pen. Use a Round Concealer Brush to pat the concealer into the skin starting at the bottom of the triangle and moving up towards the lash line.
SCULPT WITH CONCEALER
How to sculpt using our professional-grade concealer.
Choose a lighter shade of concealer – one or two shades lighter than your skin tone.
Draw a line from the top of the cheekbone, down towards the corner of the nose. Use a Round Concealer Brush to blend the edges into the skin.
Draw a parallel line underneath the shadow of the cheekbone. This will reveal the shape of the cheekbone without needing to contour.
Sketch a line underneath the eyebrow and smooth back into the skin with a Round Concealer Brush.
Sketch a line from the bridge of the nose half way down and blend. You can also highlight the tip of the nose for extra radiance.
Highlight the cupid's bow and blend.
Highlight the chin, forehead and inner corners of the eyes with your favourite concealer and smooth with a Round Concealer Brush.
Finish with your favourite Beyond Powder for major glow.
TOP TIPS FOR USING CONCEALER
The eye area is the most delicate part of the face. It's important to moisturise well before applying makeup to boost moisture levels.
Pat an extra layer of Hydra Veil into the eye contours. Hydra Veil contains microalgae, which provides a soothing effect, whilst niacinamide and sodium hyluronate infuse the skin with hydration – giving you the perfect environment for makeup application.
Use concealer to cover blemishes before applying foundation – this helps to create a seamless base. Using concealer over foundation may leave a difference in colour/texture to the foundation base.
When concealing the eye area, we recommend applying after foundation – this helps to avoid using too much product under the eyes.
Target the inner 'nooks' of the eyes first when covering dark circles under the eyes, this is the deepest area of the eye socket.
Draw a triangle from the inner corners of the eye down to the cheek and back up to the outer corner of the eye. This ensures the whole eye socket is targeted and provides a highlighted 'uplift' effect. (reference: image 1)
To retain high coverage of our pro-standard concealers, blend the edges using a patting motion with a concealer brush, the cooling tip of the Skin Base Concealer Pen or fingertips – using a sweeping motion will diffuse the product.
To manipulate into a sheer coverage, blend the product with our Blender Brush to diffuse.
After applying eye make up, use concealer to erase any imperfections and reveal the shape.
Use a lighter shade to carve out your features. Sculpt your highlights under and over the cheekbone to reveal the shadow, around the brow to strengthen and around the lip line to emphasise or manipulate the shape. (reference: image 2)
Lift the eyes and lips upwards using concealer – a pro tip for mature makeup application. (reference: image 3)
SHOP THE PAGE