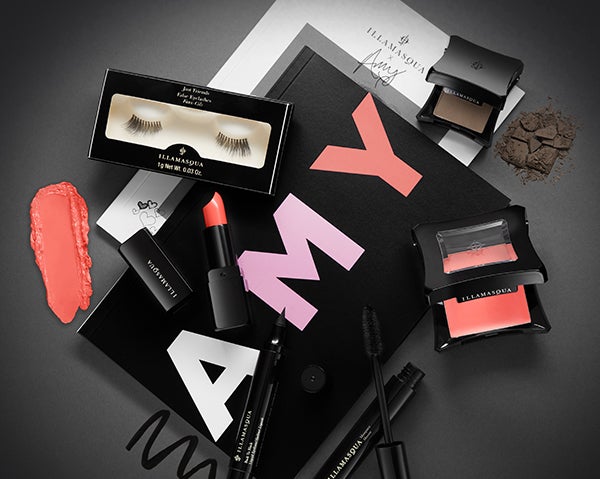 Frankly Amy Limited Edition Beauty Box
Recreate Amy's iconic look with this exclusive 6 piece limited edition beauty box.
Shop now for £50 for limited time only!
FRANKLY AMY
Our beauty capsule recreates Amy Winehouse's renowned look in Illamasqua products and is brimming with doodles found in her journals, and notes outlining her beauty and fashion aspirations. The block text and design of this beauty box is a nod to Amy's London neighbourhood with the bright colours and eclectic murals of Camden Town.

Our limited-edition box features the two Illamasqua products loved by Amy herself: Cream Blusher in Pixie and Lipstick in Over, as well as a collection of Illamasqua products in exclusive shades inspired by her iconic makeup look.
Shop Now
AMY'S LOOK
Renowned for her beehive hair, dramatic winged eyeliner and pink pout, some of Illamasqua's cult-favourite products were found in Amy's makeup bag, contributing to the blues-legend's bold look. A fashion enthusiast who dabbled in at-home beauty, Amy's makeup was a combination of professional makeup artists and her own creativity. The artist's signature – and exaggerated – makeup style was very much a result of trial and error over the years, eventually earning her beauty symbol status.
INTERVIEW WITH STYLIST AND FRIEND, NAOMI PARRY
In this exclusive interview with Illamasqua Director of Artistry Pablo Rodriguez, Naomi explains the passion behind Amy's style, giving us a glimpse into the woman behind the beehive hair and coral lipstick.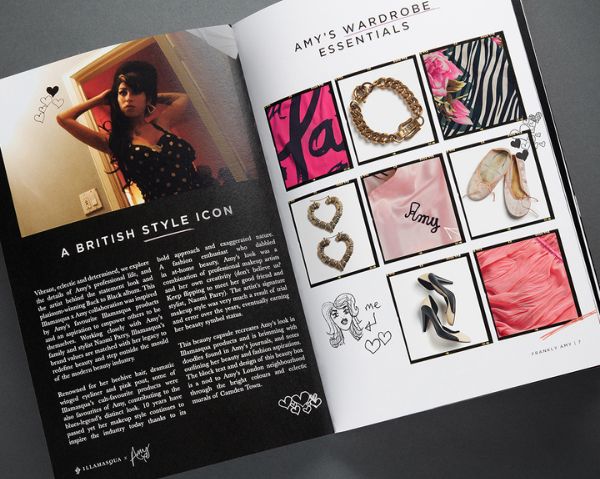 SNEAK PEEK: INTO AMY
This limited-edition beauty box includes an exclusive 32 page magazine which gives an insight into Amy herself, her renowned look and also features her hand-written notes and aspirations.
Get to know more about the Amy loved by so many.
Take a look
4.6% of the sale price of this product goes to the Amy Winehouse Foundation, Registered charity no: 1143740 (England and Wales). This represents the amount which would have been due to the Estate of Amy Winehouse, which has waived its entitlement to its share of the profits in favour of the charity. The Amy Winehouse Foundation is inspired by Amy's spirit, her love of children and the challenges that she faced in her own life. Today, the charity helps thousands of young people to feel supported and informed so that they are better able to manage their emotional wellbeing and make informed choices around things that can affect their lives.