In October 2013, 16 finalists battled it out to become the winner of their category in The Distinction In Make-up Artistry Awards. Blanka Bare was Illamasqua's Non-Professional winner. Part of Blanka's prize was to take part in the 5 day course at The School of Make-up Art, Myself and Spob (Head of Professional Development) went down to surprise Blanka with her Trophy. We caught up with Blanka to see what she has been up to since the competition…..
How did it feel to win the competition?
It was completely unreal! Sometimes I still can't believe that I actually won! I've been under a lot of stress for 3 weeks before the competition – developing and working on makeup, arranging a visit to another country, the competition itself was very stressfull because judges were people who I admire, I had to explain everything in another language, makeup was done in front of a live audience and we had just 60 minutes… And I was quite inexperienced in fantasy and creative makeup, I've done just two of those before applying for The Distinction In Make-up Artistry Awards! By the time everything was over, I was so drained out I said to myself "I don't care if I win or not, just being there was a once in a lifetime experience". It seems like everyone around me had higher expectations than me, my best friend was going crazy! But when Spob called me and said "Congratulations Blanka, you won The Distinction In Make-up Artistry Awards  in your category!" I just sat on the floor and cried. There aren't any words to describe that feeling but it was amazing!
What have you been up to since the competition?
I've continued to write my beauty blog (www.variolavera.com) experimented with creativity and new techniques, got a lot of new clients and did a lot of makeup, worked on some fashion shows and even got a job in the beauty industry I love! I am also working on some beauty projects I hope will be out soon! It is all about makeup for me at the moment and I enjoy sharing my looks as inspiration over social networks because the feeling I get when someone says I helped them try something new is beautiful. That is basically what I want – to inspire.
Here are a few of Blanka Social Media links, to see more of her work: Facebook  Tumblr  Instagram
What would be your advice for anyone entering the competition this year?
Do it! If you have any doubt about entering, get over it and send in your application right now! I have sent mine 2 hours before the entries were closing because I thought I wasn't good enough and it turned out I am. You really can't lose anything, you can just gain an amazing experience. When it comes to makeup you are doing, let your brush take you there, do it with your heart, go somewhere you've never been before. Make-up possesses that amazing power to set you free with just a few brush strokes – use it!
Why did you apply for the competition?
As I said before, I've never really done creative makeup. I felt that part was missing because when you call yourself a make-up artist, there must be that ART part somewhere. When I saw the competition was opened I said to myself that I will apply but as the time was running out, I wasn't completely happy with creative looks but I still felt a need to go there, to try new things, to learn… I like to challenge myself and what's the better challenge for inexperienced introvert wannabe make-up artist than doing make-up on an international competition on a stage of BAFTA theatre in front of live audience, cameras and judges. To put all this in one sentence – I applied because it was something I needed to gain freedom and to grow as an artist.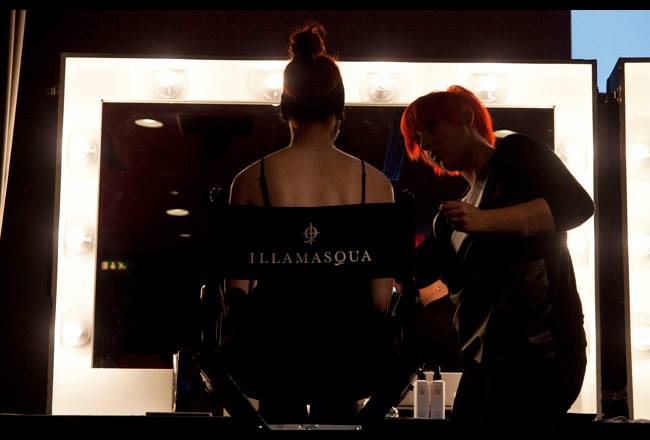 What did you enjoy most about the live competition?
Everyone was so nice and professional, I enjoyed being surrounded by people who like makeup, talking with ones who came to watch the competition and seeing what other contestants came up with. But the moments I will always remember were when I presented my work in front of curtain judges. Alex Box looking at my model and asking how I did it, Julian Kynaston patting me on the shoulder and smiling, Sam Fine and Jane Demuro saying what I did was amazing and Spob and David Horne nodding their heads in back of the room… My eyes get filled with tears when I think about it. It was that beautiful adrenalin rush. It may sound weird, but that is what makeup does for me.
What was it like on the 5 day course at The School of Make-up Art? 
It was great! Although I have been self taught for years and I developed my own way of doing make-up, it was really interesting to see how it's done at Illamasqua. I loved the fact that make-up we did at school was really dramatic, just as I like it. I have learned new techniques, got a chance to try out some new products, experimented with different textures, worked on different faces. Our mentors Ben and Nilli were very helpful and professional and the mood in the school was very positive and inspiring.
Thank you Blanka and for reading at home. Are you tempted to enter? Apply HERE for your chance to achieve what Blanka here did.
Good Luck!!! x