The launch of our brand new product 'Beyond Veil', is a new brilliance for skin that combines the cult favourites of Beyond Powder and Hydra Veil to prime, illuminate and rehydrate your skin. To celebrate the launch we collaborated with our skinspiration Nina Vee to show you all how to achieve skin that is 'beyond' and here on the Illamasqua blog, she tells us her ultimate skin tips and what she is currently up to.
Beyond Veil is a partnership of two Illamasqua cult products, Beyond Powder and Hydra Veil… how have you incorporated it into your make-up routine?
I am obsessed with the beyond Veil alone on my skin on no-makeup days, and under my foundation or CC Cream on makeup days. It gives me the most luminous healthy glow. I also love using the Beyond powders all over the face, and collarbone for a beautiful sheen.
Describe Beyond Veil in 3 words.
 Healthy, Glowing, Hydrating
When you wake up in the morning what is the first thing you do?
Count my blessings and check my phone.
If you were stranded on a desert island and could only take 3 items with you what would they be?
Toothpaste, SPF, Knife (haha)
Your skin is incredible! What is your skin care routine? Any words of wisdom you can pass on to the Illamafia? 
Thank you! Regular facials keep me on track, as well as glycol acid in some of my skincare products, makes a huge difference. I love Alpha H as a skincare brand.
If you weren't pursuing a career in make-up what do you think you would be doing instead?
I have other passions which I still plan on pursuing. I just keep them off social media. I have goals for a dog shelter as well as a homeless shelter, not neither being traditional. I aim to help the homeless and get them back on track, and I aim to keep all the dogs!
On your Instagram you often try-out unique and sometimes bizarre products/treatments, which would you say was the most-worth it?
I think all the at-home DIY's are both fun and work really well. Using things you already have at home, and not having to purchase anything, is so worth it.
What are your favourite Illamasqua products and why?
Illamasqua probably does the best base products I've ever tried. But as well as that, I am obsessed with the powders. Creamy, silky, blend like a dream, and the shades are so unique. I am obsessed with "Disobey" which I cannot put down.
What was your first experience with makeup?
I remember stealing my mom's foundation, taking it to school, and smearing it all over my face. It was about 3 shades too dark for me and everyone thought I got a tan. Looking back, they were probably making fun of me.
Who are some influencers we should be following? 
Chloe Morello, Kaushal Beauty and Ourfa Zinali.
Tell us more about your current project that sales of your 'Lieutenant' T-shirt are raising money for.
Thank you for noticing! I started this project 2 years ago in Dubai. It began with me wanting to create this idea I had in my head and designed myself, as my sister had a tailoring company. I quickly realised there was this huge talent that I had yet to see being tapped into, which was hand-embroidery. I began to find individuals and began this journey. 10-12 hours of embroidery alone, per t-shirt, it's amazing to see. The sales of these t-shirts allow me to continue providing steady jobs for these individuals in Rural India. It means a lot to me.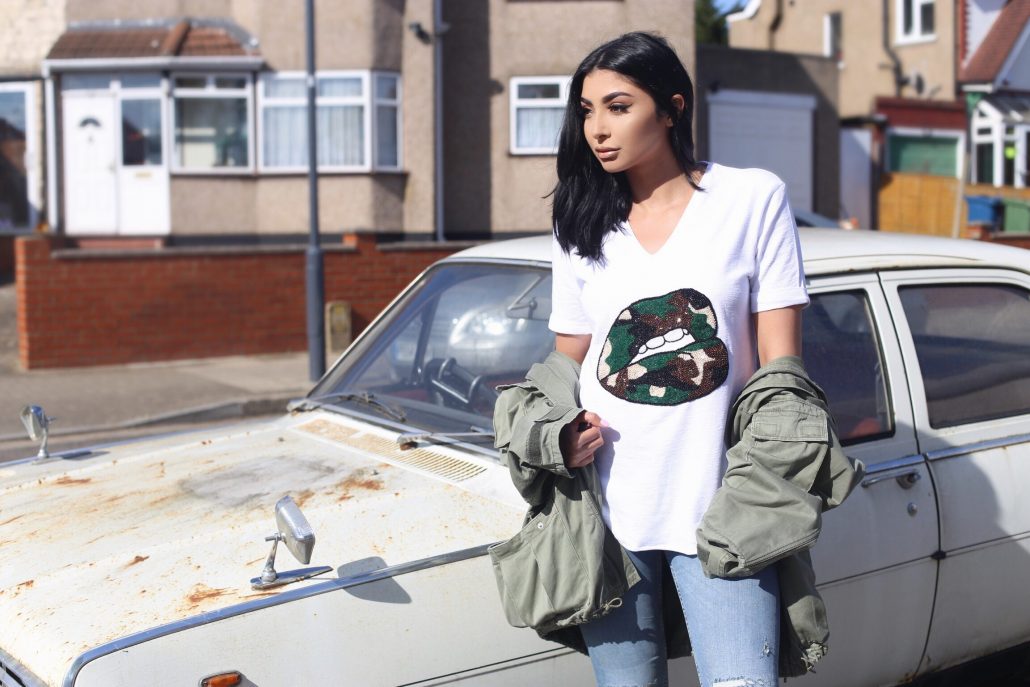 You can get your 'Lieutenant' T-Shirt here
What's your advice for someone that wants to break into the make-up industry?
Be creative and be consistent.
What is the best & the worst beauty advice you have ever received?
Best: Moisturise
Worst: Matching your foundation to your face, not neck.
What's next for you, what are your big plans for 2018?
I just want to keep growing and enjoying what I do.
If you could speak to everyone in the world for 5 minutes, what would you say?
We all enter the world the same way, and we will all go the same way. Respect, love and peace! I'm sure I'll try to be more intellectual than that and drag it on a little bit more but that would be the basis of it.