I think iconic, I think Grace Jones, and I wanted to show you an iconic Get The Look today! Grace Jones started out as a model, becoming a muse to Andy Warhol, headline act at Studio 54, actress [including the Bond film A View to A Kill] numerous hits across the world and general all-round legendary style icon with her tendencies towards masculine clothing, androynous hair styles and striking, often angular make-up.
Now in her 60's, she's still not slowing down – providing proof that she lives by the fundamental beauty before age philosophy!
This is one of my favourite Grace Jones look – graphic liner with a burst of brilliant lip colour…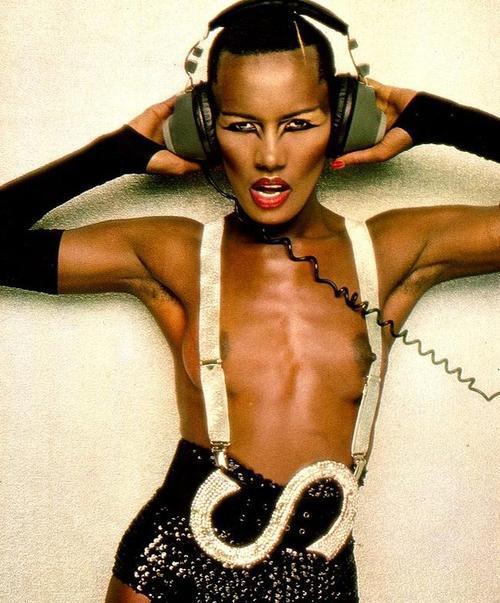 FACE
Gleaming skin is the cornerstone of the Grace Jones look. Use Skin Base for a glowing, medium/full coverage foundation and buff in using an Illamasqua Highlighter Brush. Highlight the architecture of your face by buffing in deeper tones [we suggest using further Skin Base shades for a seamless finish] under the cheekbones, into the temples and under the jawline, and enhance the structure by using a lighter tone [or shimmer based product such as Pure Pigment in Furore] along the cheekbones, down the centre of the nose, cupids bow and on the chin – use a light hand!
EYES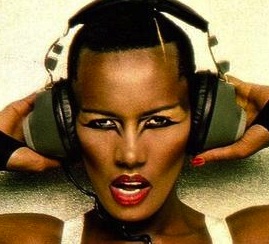 Grace Jones did not shy away from eye liner… and this graphic cut technique demonstrates that! Prep the eye lids with Cream Pigment in Hollow and press on a tangerine toned eye shadow such as Powder Eye Shadow in Vapour all over the eye and right up to brow, bringing it right out to the temples and blocking off underneath the brow. Using an Illamasqua Eye Shadow brush, sweep a chocolatey hue [try Powder Eye Shadow in Jules] through the socket and down the sides of the nose.
Using Medium Pencil in Sophie, line underneath the eyes, winging out at the outer edges and extend down towards the centre of the nose, adding a cat-like element to the finished look.
Go over the line with Precision Ink in Abyss for an accurate, glossy black finish. Finish with a couple of coats of black mascara – we all love Masquara in Raven here at HQ!
For a strong, defined brow mix a drop of Sealing Gel with Eye Brow Cake in Thunder [a dark brown] and using an Illamasqua Eye Brow Brush [tapered at the end for precision] and using the graphic liner as a guide, create statement brows!
LIPS
Line lips with Medium Pencil in Torment – a rich raspberry red – and fill in with Intense Lipgloss in Besotted, a deep scarlet red that will pop against all skin tones. Line the top lip with Pure Pigment in Furore [a champagne shimmer] to enhance the lip line.
"I WASN'T BORN THIS WAY. ONE CREATES ONESELF. I BELIEVE WHATEVER I DREAM. WHATEVER I DREAM I WANT TO DO." – Grace Jones
And here is my version for work! I'm using Precision Ink in Abyss over a nude eye shadow base, a bit of contouring [not really showing up!] and I lightened my eyebrows to make the graphic line really pop. I'm also rocking my favourite Intense Lipgloss in Succubus!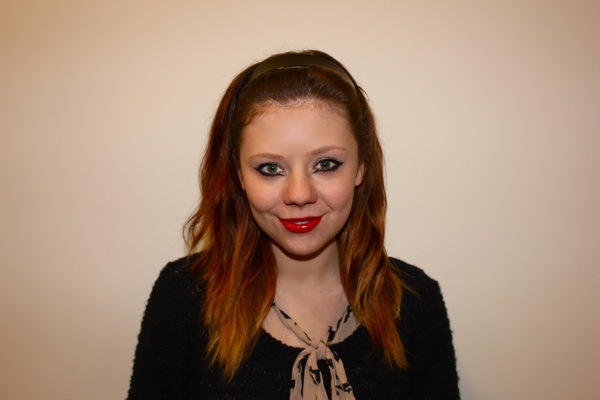 A close up of the eyes: I used Precision Ink in Glister above the top Abyss line to clean it up and add a subtle sparkle…