Our gorgeous Karen is up this week as we continue the count down to Generation Q, which will launch with an exclusive introduction to illamasqua.com this time next week [book it in to your diaries now!]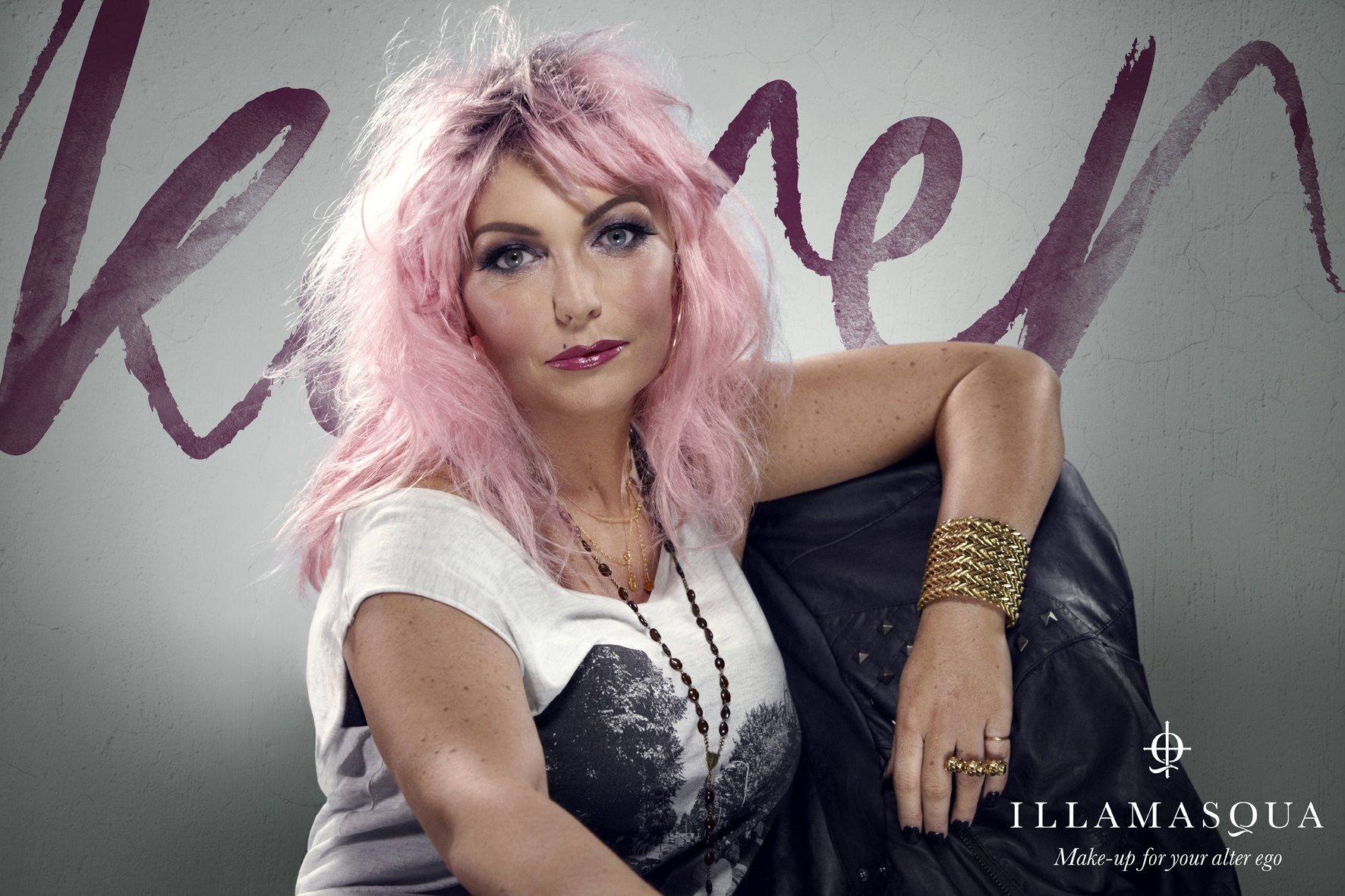 1) Tell us a bit about yourself?
My name is Karen Jones, I live in St Helens in Merseyside, I've just turned 45  and I am privileged to have a fabulous job that I LOVE as a Process Operator in an Oil Refinery – which is far from glamorous! I work 12 hr day and night shifts and have to wear overalls, hard hat, ear defenders, steel toecapped boots and gloves ….. BUT me being me always have a splash of bright colour by means of my make-up!
2) What is your personal relationship with make-up?
I LOVE MAKE-UP!!! It brings me to life! I love to experiment with colour especially and personally would NEVER EVER wear "natural" make-up. It cheers me up on the dark, miserable days (that everyone gets) a bright fuschia pink lipstick and gloss ….. hey presto …. Smiley face and ready to take on the world. I love to show my "unique" look and love to stand out in a crowd one way in which I do this is to use a colour pigment and sealer (my hair is white blonde and cropped on one side) so that I can paint leopardskin into my hair co-ordinating the colour with whatever I am wearing that day! Best thing is that because I use eyeshadow pigment to do it with it completely washes out giving me a vast range of experimentation ….. soooooo ME!
I am also going to be starting a course of intensive radiotherapy in September and have been told to expect my hair to fall out in patches! Whilst I'm not looking forward to that, one thing I do know is that my make-up will help me to feel and look better and give me the emotional boost of having fab make-up, glossy bright lips, sculpted eyebrows and super cheek bones!!! Great confidence will come from making the most of my features that will remain unchanged and that will come from great Illamasqua make-up ….. no one will notice if I have to do a "Sinead O'Connor" they will just think I'm having another crazy image change !!
3) What were your initial reactions to finding out you'd be chosen from thousands to star in Illamasqua's AW12 campaign?
As you may or not be able to notice (as I haven't seen the pictures myself yet) I am FAR from your usual "Model type" I'm proud being a curvy lady and once I found out I was in the final and you asked me for my measurements – I have to be honest – my heart sank! I honestly thought that when you found out that I'm curvy I wouldn't get through as 99.9% of media images seem to be of extremely skinny girls. Once I received the "fairytale" news that "ME" – Middle aged, OTT, loud and unusual Karen had been picked I was and still am ECSTATIC !!!! I still can't believe I was picked and feel honoured to represent women who don't want to conform to natural, washed out and toned down versions of themselves just because we have reached a "certain age" where most of society think its time to "calm down" … NOT A CHANCE !! I'm kind and thoughtful towards others and if I wish to remain individual and colourful then I will!
4) Walking on set, how did it feel to be a model and experience a professional photoshoot?
Iain the photographer came to introduce himself and was great. I instantly felt totally at ease with him as I did with everyone I met on the set/shoot and by the time it was my turn in front of the camera I was so excited but just felt like he was a friend and it was just such great great fun I loved every second of it and would love to do it all over again and again. The experience of a lifetime that very, very few "non models" or normal girls will EVER get the chance to experience. One to tell the Grandchildren when they eventually come along. " Look at these pictures of your Nan" ….. ha ha … awesome. Thank you so much Illamasqua for using "real" people in your shoots and just goes to show that we seem to do alright too.
5) What did you think of your look and is there any piece you can't wait wear?
I LOVED my look, my sculpted eyebrows were simply breathtaking. I never wear any foundation at all EVER but Alex worked sheer genius on my skin and it looked years younger and so fresh and dewy. My personal "signature" item of my make-up is bright bold glossy lips and I can't wait to go and buy what I was wearing on the shoot ….. ALL of it the day its released. I had beautiful black glittery nail polish on and it lasted without a single chip for over 4 weeks … amazing.
6) What was it like having your make-up done by Creative Director Alex Box?
Inspirational!! I love to experiment with colours and looks but my eyebrows that Alex did were amazing totally framed my eyes and they just seemed to "POP"! Alex herself is simply a creative genius and it was like watching an artist painting a masterpiece, every detail no matter how small had to be perfect and it was. When I was turned around to face to mirror to see my look …… WOW!! I LOOKED YEARS younger and I just need Alex to come live with me now so I can achieve the youthful glow everyday. She's so down to earth, modest and an extremely kind and warm person I feel so honoured to have had the once in a lifetime gift of being "Boxed" as I call it by Alex herself. Thank you Alex.
7) Are you excited to see your imagery on Illamasqua counters across the world?
Oh my goodness YES but I am nervous too, I know you will make me look good, but as only Illamasqua and I know …… its going to be "different" and I think I could walk past the counters and people might not recognise that its me in the imagery. We will have to wait and see.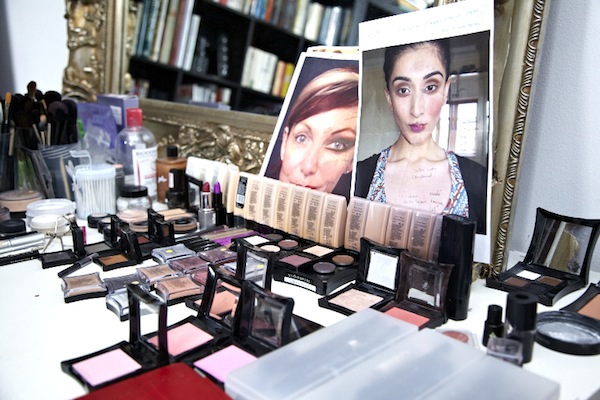 8) What are your thoughts on our use of real women for our campaign?
As I said earlier, I am not your usual model type of woman. I'm a size 14-16 and have lots of curves and feel proud to represent and to stand for what today is actually more representative than the size 6 models that most companies and media portray as being normal. Women, girls of all ages feel immense pressure to conform to being ultra skinny and women (and men) should be encouraged to be themselves and be happy with themselves. Be confident of who you are and what you believe in regardless of size, shape and what is supposed to be the "norm". Illamasqua is a fantastic ambassador for this and for that I applaud you.
9) Why do you think that women should be empowered to wear bold, colourful make-up at any age?
Women once we reach a certain age are expected by society to tone down, water down our image ….. WHY?? My make-up says so much about my personality, its colourful, bright, different, quirky and hopefully brightens life up. I don't want to be a "natural, toned down, mundane, faded version of the person I STILL am just because I'm past 40! Life is for living and if I feel happier by surrounding myself in bright colours and sparkly things then I WILL. I often get stared at when I walk round towns, shops because I am a little OTT, distinctive hair and make-up and I do WANT to stand out in a crowd. So each time someone stares ….. I smile at them because I'm happy with my individual look and 99% of the time they smile back. Everyone should be positively encouraged to express themselves in whatever way they wish irrespective of age and we should not judge a book by its cover, quite often that impression is incorrect.
10) What have you taken away with you from the whole experience?
A fabulous feeling of being totally comfortable in my own skin, knowing that age doesn't control my life in any way shape or form it merely tells me how long I've been alive for. It will never stop me from being myself and expressing my personality through my make-up, hair and clothes …… I like being ME.