Last Halloween 2011 was hijacked by the launch of our debut fragrance, Freak giving you a new way to explore your alter ego. A concoction of dangerously exotic and unconventional flowers, the unashamedly erotic scent of Freak has won many fans across the world so we are delighted to win our first award!
Basenotes.net [the largest online fragrance forum in the world] hosted their Basenotes Reader Awards last night and our Freak by Illamasqua won Best Packaging 2011.
We are absolutely delighted to win a reader awards from such a prestigious authority on fragrance such as Basenotes.net and want to thank everyone who voted for us! It was a real team effort from Azzi Glasser [Freak's 'nose'] and the team here at Illamasqua, Propaganda's Lee Bennett, Illamasqua's Joint MD's Julian Kynaston, Joseph Corre and Illamasqua's Creative Director Alex Box to create such an extraordinary fragrance that considered not just the scent but the narrative and packaging of the fragrance. Our silver snail has delighted our fans across the world.
Let's raise a glass to the Freak in all of us!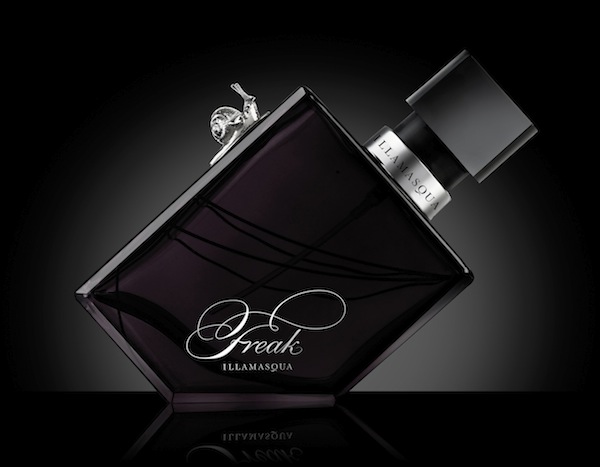 "We've seen plenty of fragrance lately with a plasticky flower stuck on the bottle (thank you Marc Jacobs), but we've not seen any with a snail on it. Until now. Enter Freak by cult British make-up brand Illamasqua to fill the snail-on-perfume-bottle void." – Basenotes.net
"I don't normally go ga-ga for packaging and highbrow concepts, but I LOVE THIS!" Basenotes.net reader comment
"I think I have to have this. Just so I can holler "I'll be down in a minute. I'm getting my Freak on" when a friend comes by to pick me up." – NSTperfume.com reader comment
"That bottle is just…beyond. I want to buy it simply for display on my nightstand, and I don't even have a nightstand." – NSTperfume.com reader comment
Voted Sunday Times Style's 5 Star Product: "Illamasqua makes its fragrance debut with Freak – featuring poison hemlock, queen of the night and datura. A traditional ingredient of love potions. It's every bit as intoxicating as it sounds. All in a slick art deco inspired bottle. Best for evenings, not recommended for shrinking violets, get yours on."
Voted by Harpers Bazaar magazine as one of the best seasonal scents and by Cosmopolitan magazine as part of their Beauty Lust List.