Apparently the majority of people have already broken their New Year's Resolutions. But worry not, we have some make up solutions that can help you to stay on track!
WORK HARD, PLAY HARDER
New Year's Resolutions are much easier to stick to if you reward yourself for sticking to them. We are big advocates of working hard and playing hard. We believe that hard work should be rewarded – after all, we all need to let our hair down from time to time.
Our Hydra Veil Primer is perfect for helping to keep your make up in-tact all day and right through to the night – ideal for those spontaneous after work drinks.
Not only does the Hydra Veil provide you with a perfect make up base, it feeds your skin with essential vitamins and minerals, leaving your skin looking youthful and radiant as you party into the night:
Microalgae: an antioxidant, meaning your skin is protected from free radicals – a common cause of premature ageing.
Vitamin C: helps with the collagen production of the skin, therefore helps to keep skin looking plumped and youthful. Vitamin C also helps to even out the skin tone and keeps skin moisturised, making for a brighter, more radiant complexion.
Vitamin B3: helps to keep skin moisturised and reduces redness – perfect for preparing your skin for make up (also ideal for giving your skin a much-needed boost the morning after the night before!)
The clear, jelly formula is both cooling and refreshing to the skin when applied and comes with a very handy spoon, meaning you can apply the correct amount with each use – helping the product to last longer.
 @tabbyfa uses Hydra Veil to create this gorgeous dewy complexion:
 
GO VEGAN
With 'Veganuary' in full-swing and the increased popularity of veganism in general, now is the perfect time to consider not only making sure your diet is cruelty-free, but to also put consideration into the beauty products that you are using.
We are proud to call ourselves a cruelty-free brand. Our products have NEVER and will NEVER be tested on animals. Our aim is to create the most innovative and creative products, whilst being mindful and respectful to the environment at all times.
With almost 300 vegan products to choose from, including our best selling products, you have no excuse:
Skin Base Foundation: This award-winning foundation leaves your skin flawless, whilst feeling lightweight and natural. Containing essential vitamins, this product softens the skin whilst hiding imperfections. Long-wearing, buildable and easy to blend – need we say more?
@andrapetreamua uses our Skin Base Foundation to achieve this flawless finish:
Beyond Powders: Our Beyond Powder highlighters are a favourite amongst many. This baked highlighting powder glides effortlessly on the skin, whilst giving a natural, healthy glow. Can be applied to the high points of the face, or all over for an illuminated finish. Try using the Beyond Powders on your body or as an eye shadow for the ultimate glow.
@pennold wears the Beyond Powder in shade 'OMG' to give her this gorgeous glow:
Gel Sculpt in Silhouette: Contouring made easy. Our Gel Sculpt is perfect for adding subtle definition to the face with ease. Apply with fingers to the hollows of cheeks, across the temples and along the jawline to give a healthy, bronzed glow in all the right places.
@xspacechild_ uses Gel Sculpt to extenuate her cheekbones:
TRAVEL MORE
It's getting to that time of year again when we all crave some Vitamin D. We say take the bull by the horns (not literally), pack your bags and see the world. Travelling is not only the best way to switch off from the hustle and bustle of everyday life, but it's a great excuse to refresh your make up bag.
Whether it's a camping trip, a weekend city break or a two-week escape to a tropical island – we've got your back. Our range of minis are perfect for taking anywhere, meaning you never have to compromise on your make up.
Our IllaMustHaves gift set contains four of our best-selling products, housed in a handy and stylish art-deco inspired make up bag. The set includes:
Make up bag – perfect for keeping all of your minis in one place.
Mini Gel Sculpt (4g) – great for enhancing your new sun-kissed glow.
Mini Gel Liner (3ml) – water-resistant and long-lasting, will withstand any beach day.
Mini Masquara (4ml) – break hearts with this Masquara. Blacker than the night sky, long-lasting and gives you the longest and thickest lashes.
Mini Hydra Veil (6ml) – perfect for soothing and refreshing freshly sun kissed skin. Will also keep make up in tact despite one-too-many Pina Coladas.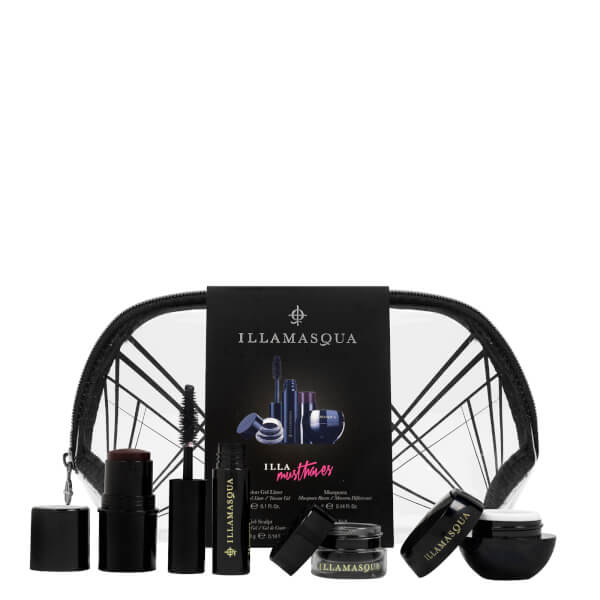 BE MINDFUL
If one of your New Year's Resolutions is to become more charitable and you have yet to do so, you can do so through Illamasqua.
We are proud supporters of The Sophie Lancaster Foundation. Sophie Lancaster & her boyfriend were brutally attacked in 2007 for nothing more than looking different. Sophie tragically lost her life due to her injuries.
The Sophie Lancaster Foundation primarily works with schools, with the aim to educate a more tolerant and broad-minded generation of young people in order to avoid anything like this happening again.
With every sale from the S.O.P.H.I.E. range (Stamp Out Prejudice, Hatred & Intolerance Everywhere), a portion of the proceeds will be donated to the Sophie Lancaster Foundation.
S.O.P.H.I.E. Wristband: Proudly display your support for the foundation and help stamp out intolerance. All proceeds will go to the foundation.
Powder Blusher – S.O.P.H.I.E. Golden Shimmer: a highly pigmented blush that will automatically bring your face to life. The slight shimmer to this powder highlights and brightens the complexion and adds a natural colour to the cheek.
Eye Colouring Pencil in S.O.P.H.I.E. Jet Black: a must for any make up bag. Intense, creamy and blends like a dream.
We're sticking with our New Year's Resolutions this year, and with the help of Illamasqua, we know you can too.
Shop this page here: